Subject: Spring Symposium Attendee Insider
View this email in a browser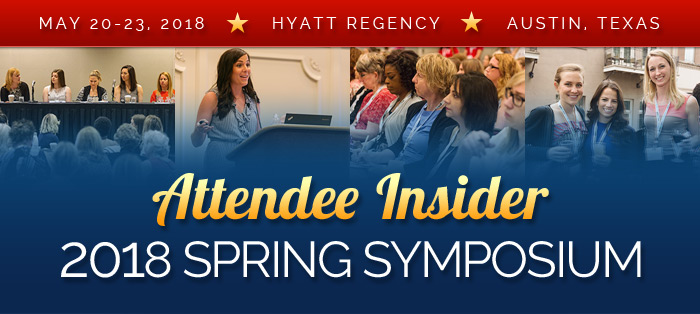 BREAKFAST PRESENTATION
Monday, May 21

7:45 AM


8 a Day: Surprising Facts About Strawberries and Health


with Leslie Redmond, MS, RD
Sponsored By:

MORNING FITNESS
Tuesday, May 22

6:30 AM


"Operation Endure" Bootcamp


Led by Tazz Tucker, NASM Certified Personal Trainer 
Sponsored By:


BREAKFAST PRESENTATION
Tuesday, May 22

7:45 AM


Inspiring Nutritious Morning Solutions


with Holley Grainger, MS, RD 
Sponsored By:

BREAKFAST PRESENTATION
Wednesday, May 23

7:45 AM
Functional Carbohydrates: A Review of Palatinose™
in Fueling an Active Lifestyle
with Christine Rosenbloom, PhD, RDN, FAND 
Sponsored By:

PLUS...EVENING ACTIVITY!
PINTS AND POSES
Tuesday, May 22

6:15 PM – 7:15 PM
Zilker Terrace
Join
Mandy Unanski Enright, MS, RDN, RYT,
on the Zilker Terrace for a 1-hour session that will draw from a range of yoga traditions.
Following the session, participants can enjoy a complimentary local draft beer (or other cocktail of your choosing) and mingle with your fellow yogis.
Sponsored by Hormel Health Labs.



We wanted to pass along this bit of "Insider" info from our experience coming to Austin while planning this event. 

When taking a cab from Austin-Bergstrom airport to hotel, the most economical route is via Riverside rather than the highway. In some cases, you can save as much as $10. Taking a cab from the airport via Riverside is 

$23

 vs $35 via the highway.

We thought you should know. See you in Austin!


Thanks to our sponsors for their support of continuing education in nutrition and dietetics.