Subject: Symposium Advance Registration Ends At Midnight
View this email in a browser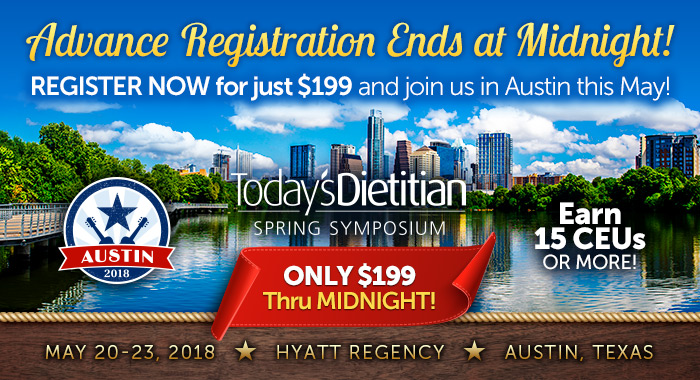 Join us at our 5th annual Spring Symposium, a continuing education and networking event for dietitians and nutrition professionals, on May 20-23, 2018, at the Hyatt Regency Austin! Earn 15 CEUs or more in stimulating sessions and workshops, connect with fellow RDs, and engage with our sponsors, who understand the needs of professionals looking to help clients.

Our Spring Symposium education program will be led by some of the foremost experts in dietetics and nutrition, with sessions and workshops on topics that include Cancer, GMOs, Sports Nutrition, Lab Assessment, Digestive Diseases, Food Sensitivities & Allergies, Gut Microbiome, Culinary Perspectives, Branding, Intuitive Eating, Mindfulness, and more.



Your Registration Includes:
All continuing education sessions and workshops
Networking opportunities with peers and presenters
Product sampling from our sponsors
Keynote address
Fitness activities
Happy hour
*Registration does not include accommodations
at the Hyatt Regency or travel to and from Austin.
To register and for up-to-date information on the Symposium and hotel, visit TodaysDietitian.com/SS18.
Thanks to our 2018 sponsors for their support of continuing education in nutrition and dietetics