Subject: Symposium Call for Presenters Ends Today
View this email in a browser
Have an Idea for a Session, Workshop, or Panel for Our 2019 Symposium?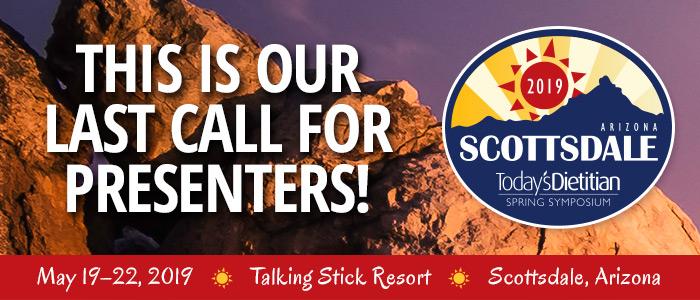 Are you interested in presenting at the 2019 Today's Dietitian Spring Symposium in Scottsdale, Arizona on May 19–22? If so, then we invite you to submit your idea on how you would share your expertise with your colleagues! Individual or group proposals for continuing professional education sessions are now being accepted for consideration.



Today is the last day abstracts will be accepted!


In your abstract, please provide a written summary of no more than 250 words setting forth a narrative overview of the proposed content of your presentation.


The venue, Talking Stick Resort, is Scottsdale's top entertainment destination, a luxury hotel and casino resort located on the Salt-River Pima Maricopa Indian Reservation. The 240,000 square feet property includes a 98,000 square feet casino, 496 guest rooms, 21 meeting rooms, six entertainment lounges and five restaurants. It also contains a 25,000 square feet Grand Ballroom, a spa spanning 13,000 square feet, a fitness center, Showroom that seats 650 and four pools. We'd love for you to be a part of our 6th annual event!