Subject: Symposium Special Event Schedule
View this email in a browser | Update your information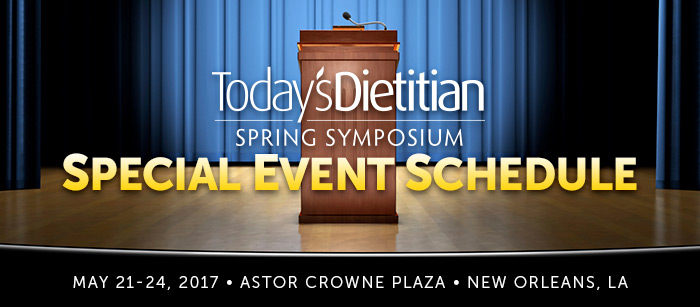 We are grateful and thrilled to be hosting our 4th annual continuing education and networking event in the heart of New Orleans' French Quarter. The Southern charm and unique energy of this great American city should provide for plenty of entertainment as well as a fabulous location for a one-of-a-kind learning and culinary experience.

Our special events and networking opportunities will be fun, health-conscious, and informative. They include:




Keynote Address


Sunday, May 21, 5:00 PM - 6:15 PM, Astor Ballroom



What Can Become of a Regular Girl?


Dr. Felicia D. Stoler

To kick of our Symposium, third-time career changer Dr. Felicia Stoler is going to share her journey in a motivational presentation. Felicia will inspire and empower you to open your mind to the possibilities ... from work-life balance, to technology, social media, working with brands, product innovation, staying ahead of trends, and yes — #fakenews.


| | |
| --- | --- |
| Brought to you by: | |




Conversational Breakfasts


These special presentations will begin each day's schedule on Monday, Tuesday, and Wednesday at 7:00 AM in the Astor Ballroom. Brought to you by:


| | | |
| --- | --- | --- |
| | | |
| Monday, May 22 | Tuesday, May 23 | Wednesday, May 24 |




Happy Hour


Monday, May 22, 5:30 PM - 6:30 PM,
Grand Gallery and Bourbon Balcony, Brought to you by:





Symposium Services & Badge Pickup


Saturday, 3:00 PM - 7:00 PM | Sunday, 9:00 AM - 7:00 PM
Monday & Tuesday, 7:00 AM - 5:30 PM | Wednesday, 7:00 AM - 1:30 PM

Stop by the Symposium Services desk in the Astor Foyer to pick up your badge and program guide. Today's Dietitian staff will be available to answer any questions before Sunday's workshop and during conference hours. Tote bags will be available for pickup during Exhibit Hall hours on Monday.




Exhibit Hall


12:00 PM - 2:00 PM, Monday and Tuesday with Lunch

This is your opportunity to get up close and personal with our sponsors! Engage and interact with this diverse group of companies, whose representatives understand the role of dietitians and are here to discuss products and programs that can benefit you and your clients. Many of our sponsors have samples to try, taste, and bring home, so feel free to consume all of the food, knowledge, and connections available to you in our Exhibit Hall.
Thanks to our sponsors for their support of continuing education in nutrition and dietetics.