Subject: TD10 Nominations End Tomorrow at Midnight


View this email in a browser | Update your information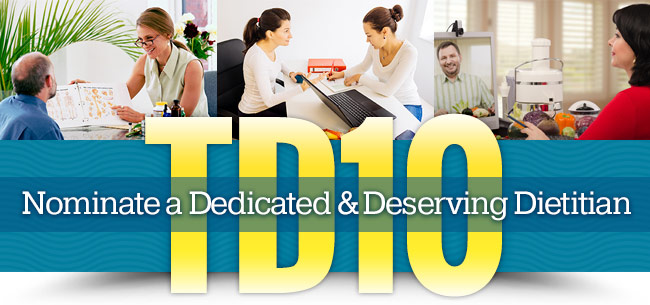 Deadline: TOMORROW, November 30, 2017


Each year, our March issue puts a spotlight on 10 dedicated and deserving dietitians for their work and service within dietetics. The TD10 are professionals who have been nominated by the readers of Today's Dietitian—fellow nutrition professionals.

Once again, we're asking you to let us know about dietitians you believe exemplify the profession and are making a difference for their clients, their communities, and for the field of dietetics.



Who should you nominate this year?
Here are some guidelines to help you choose:




Nomination Criteria:
RDs who have gone above and beyond their job description to make a real difference in the lives of their clients or in their community.
RDs who have overcome significant challenges in their career and risen to new heights of success and influence.
RDs who have achieved a high standard of excellence as a nutrition professional.
RDs who have brought innovation, creativity, or new ideas to the profession.