Subject: The Mediterranean Diet Webinar: Additional Nutrition Resources

View this email in a browser | Update your email preferences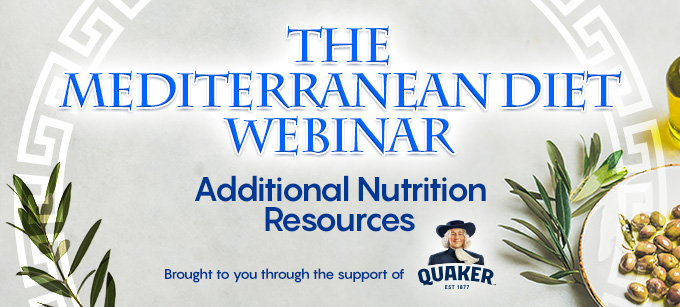 Thank you for your interest in The Mediterranean Diet & Beyond webinar, brought to you by Quaker.


At Quaker, we support eating patterns that emphasize the inclusion of whole grains, along with fruits and vegetables — especially since there's been a lot of talk about so‑called 'bad carbs,' which sometimes results in whole grains, like oats, being cut from diets.

As the leader in oats, and with a roster of nutrition scientists on staff, we know how important it is to include whole grains in the diet. Oats have a relatively unique nutrition profile compared to other whole grains. Oats are also one of the most convenient sources of fiber, including beta‑glucan, a soluble fiber largely unique to oats which may help to lower cholesterol levels. In fact, Quaker helped pioneer the FDA heart-health claim more than 20 years ago, which states that eating 3g of soluble fiber from oats daily, when part of a diet low in saturated fat and cholesterol, may reduce the risk of heart disease.

As your clients look to refresh their diets this year, we recommend that you encourage them to incorporate oats throughout the day to help increase their whole grain consumption, and their intake of soluble fiber to 3 grams. A ½ cup serving of Old Fashioned Quaker Oatmeal provides 2 grams of soluble fiber.



For oat recipes, information on the benefits of oats and tools and resources for you and your clients, visit Quaker's newly redesigned RD Toolkit.

Finally, if you were unable to join the live webinar, the recording is available in the

CE library

.