Subject: Today's Dietitian Spring Symposium Attendee Insider
View this email in a browser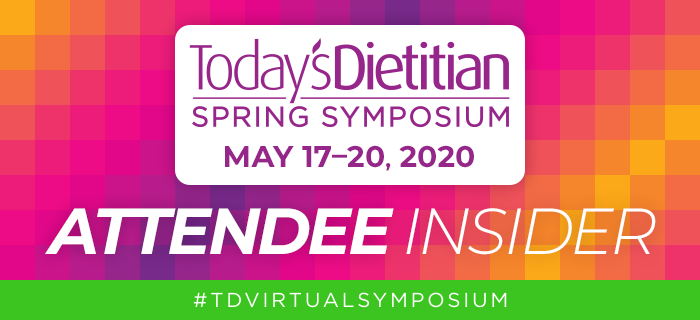 Our Virtual Event is Almost Here!


In preparation for the start of the 2020 Today's Dietitian Spring Symposium this issue of the Attendee Insider will focus on how to access the program sessions.

The full program guide will be released shortly, but in the meantime, here are the instructions you will need to follow in order to join the educational sessions: (Please Note: Links described below may not be available or fully active until the Program Guide is distributed.)

We recommend you log in 10 MINUTES BEFORE the session's start time to test your system. In your browser's settings, ensure that cookies are enabled. Unmute your computer speakers if necessary. If you're joining us from your workplace, you may need to contact your IT department or internet service provider to make sure access to the website is enabled.
Select the session you'd like to attend from the Virtual Symposium schedule. (You may want to bookmark this page since you'll be coming back to it often throughout the Symposium.)
Click on the Join Session button for the session you'd like to join.
When you get to the login page for your selected session, complete the form by filling in your first name, last name, company, and e-mail address.
Click Submit.
Enter this password to join the session: SSTD20.
You must listen to the session through your computer speakers. There is no telephone dial-in access.
Audio/Visual System Requirements:
Operating System
Internet Browser
Media Playback
Audio
PC-based attendees: Windows® 10, Windows 8.1+Pro, Windows 7

Macintosh®-based attendees: Mac OS® X 10.10+

Mobile attendees: Apple iOS 10+ or Android 4.4+
Google Chrome 60+,
Internet Explorer 11+,
Firefox 55+,
Safari 10+,
Edge Browser
HTML5 streaming enabled browser

Apple iOS http streaming enabled browser

Android http streaming enabled browser
Audio must be streamed through computer speakers or mobile device.

We recommend using Firefox or Google Chrome for optimal experience.



Event Schedule & Presenters


You can preview the full event schedule, including all sessions and presenters. In addition, all the session abstracts are available by clicking on the presenter profiles. So, start planning your schedule now!



Keynote Presentation Wednesday, May 13th


The Keynote Presentation for this year's Spring Symposium will be delivered by internationally recognized nutrition expert Christopher Mohr, PhD, RD, and offers complimentary 1.5 CEUs. The discussion will focus on how to support wellness needs and identify strategies to fill shortfall nutrient gaps and optimize health. Register now.

Games, Prizes, and Experts



Virtual Happy Hour
Sponsored by Carlson
Tuesday, May 19th 4:15 pm – 6:00 pm EDT
Spend some quality time with your colleagues. You might just win something too!  Grab your favorite cocktail/mocktail and join in the fun and games. Carlson educators will also be on hand to answer your questions.

Join Us!
https://us02web.zoom.us/j/86159431326
Meeting ID: 861 5943 1326
Social Media




#TDVirtualSymposium

Please use our 2020 Virtual Symposium hashtag #TDVirtualSymposium in your posts and tweets leading up to and during the event. Our meeting hashtags have regularly trended #1 on Twitter, so we're asking you to help keep that streak alive and let everyone know how much you are enjoying the program! Also, please tag Today's Dietitian on all of your Facebook, Twitter, and Instagram posts over the course of the event!
Thanks to our 2020 sponsors for their support of continuing education in nutrition and dietetics.