Subject: Today's Dietitian Spring Symposium – EXHIBIT HALL IS OPEN!
View this email in a browser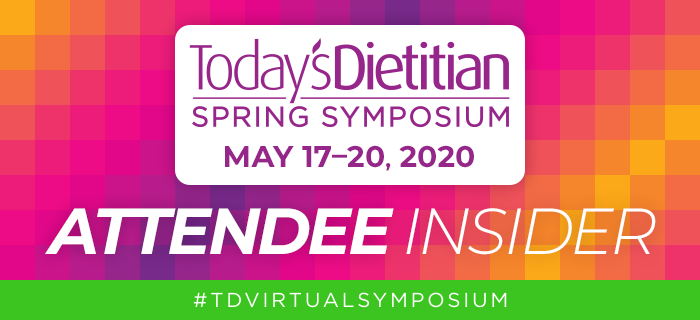 Our Virtual Exhibit Hall is Now Open!


Heighten your experience at the 2020 Today's Dietitian Spring Symposium by visiting our Virtual Exhibit Hall. This unique venue lets you explore the wonderful organizations that help you contribute to the health and wellbeing of your patients and the community at large.


In addition, you will have the opportunity to enter a drawing for a chance to win one of these prizes:

Grand Prize
$1,000

First Prize
One complimentary registration for Today's Dietitian Spring Symposium 2021, including 3 hotel nights

Additional Prizes
NOW prize pack, featuring a few favorite supplements, beauty and health products, and sports nutrition and foods valued at $120.
Grapes from California Bluetooth Speaker
A One Month Supply of Siggi's!
Nature Made gift basket valued at approximately $250
See the entry instructions in the Virtual Exhibit Hall but you might want to download your entry worksheet now.

Browser Note: For best viewing it is recommended to use a browser other than Safari.



Sustainable Food Systems Master Class



If you plan to attend the Sustainable Food Systems Master Class on Wednesday at 10 am EDT, please complete this brief pre-event questionnaire to help guide the discussion.

https://www.surveymonkey.com/r/MDNSTDQ

Games, Prizes, and Experts



Virtual Happy Hour
Sponsored by Carlson
Tuesday, May 19th | 4:15 pm – 6:00 pm EDT
Spend some quality time with your colleagues. You might just win something too! Grab your favorite cocktail/mocktail and join in the fun and games. Carlson educators will also be on hand to answer your questions.

The first RD to join the Happy Hour will win a prize!

Join Us!
https://us02web.zoom.us/j/86159431326
Meeting ID: 861 5943 1326
Social Media




#TDVirtualSymposium

Please use our 2020 Virtual Symposium hashtag #TDVirtualSymposium in your posts and tweets leading up to and during the event. Our meeting hashtags have regularly trended #1 on Twitter, so we're asking you to help keep that streak alive and let everyone know how much you are enjoying the program! Also, please tag Today's Dietitian on all of your Facebook, Twitter, and Instagram posts over the course of the event!
Thanks to our 2020 sponsors for their support of continuing education in nutrition and dietetics.