Subject: Webinar on essential oils on 3-21

View this email in a browser | Update your email preferences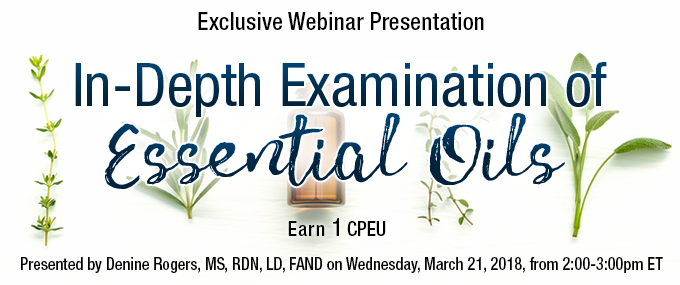 Essential oils have been used throughout the world for centuries. Various cultures have used essential oils for many purposes, including for the potential health benefits that essential oils may offer.

Today, awareness of essential oils remains high due to their extraordinary potential to sustain health. There is also a renewed interest in the usage of essential oils in food preparation. When fielding questions from patients and clients regarding the usage of essential oils, RDNs must be conversant on the true effects of essential oils and their linkage to overall health. This exciting webinar will examine the current scientific research relating to essential oils and discuss the potential healing uses of essential oils.



Learning Objectives


After completing this continuing education course, nutrition professionals should be able to:
Discuss the traditional and scientifically verified uses of essential oils.
Explore the scientific evidence research studies that has demonstrated essential oils effect with specific diseases.
Describe the uses and benefits of the essential oils.
$19.99
1 CPEU
Suggested CDR Learning Needs Codes: 2010, 5420
Performance Indicators: 8.3.6, 10.4.4
Level: 1
About Our Presenter


Denine Rogers, MS, RDN, LD, FAND, is an Integrative Registered Licensed Dietitian Nutritionist, and owner of Living Healthy which is a nutrition, health, and wellness consulting business in Douglasville, Georgia. She is a fellow of the Academy of Nutrition and Dietetics and has completed her Master's Degree in Complementary and Alternative Medicine and Graduate Certificate in Herbal Medicine at American College of Health Sciences. She also works as a full-time nutritional consultant with Anthem. Denine is a Volunteer Master Gardener in the State of Georgia where she has been able to work and teach about herbs, gardening, essential oils and nutrition to the Douglas County local communities, schools, social and civic groups. She is also serving as Secretary of Dietitians of Integrative and Functional Medicine (DIFM). Her website is: www.livinghealthy1.org.


Disclosures


Denine Rogers, MS, RDN, LD, FAND, reports the following relevant disclosure: she serves as a consultant to and independent distributor of Young Living Essential Oils. She has certified that no conflict of interest exists for this program. View our disclosure policy.