Subject: Webinar on hidden bias in clinical care
View this email in a browser | Update your email preferences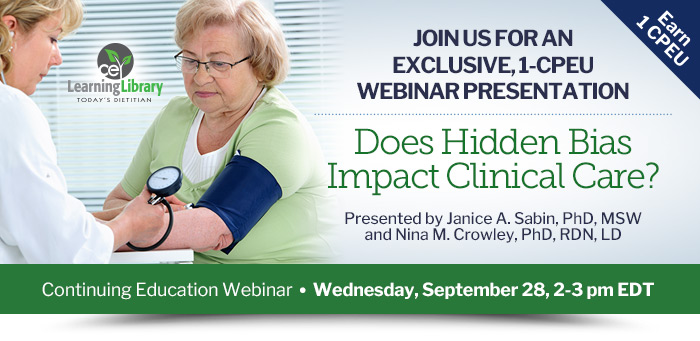 Research demonstrates that healthcare providers can positively influence patient outcomes using effective communication skills. But research also demonstrates that the presence of unconscious bias in providers' messaging can interfere and be counterproductive to treatment. Outcomes for obese and overweight patients can be particularly influenced, both positively and negatively, by the types of communication that they receive from their healthcare team.

In this unique and timely webinar, Dr. Janice Sabin will share the latest research on how unconscious provider bias can impact clinical care. Dr. Nina Crowley will join the conversation and review ways to talk about obesity, choose your words carefully, and check in with your own biases to improve communication and outcomes in your practice. Together, they will make a case for patient-centered communication to help your patients achieve optimal outcomes.



Learning Objectives


After completing this continuing education course, nutrition professionals should be able to:
Identify situations in which provider bias may impact clinical care.
Understand the unique nuances of interacting with obese patients and counseling them about weight.
List five strategies to improve communication and minimize the impact of bias on interactions with patients.
CPEUs: 1
Price: $19.99
Suggested CDR Learning Needs Codes: 1040, 1130, 5370, 6020
Performance Indicators: 1.3.3, 8.2.1, 8.2.3, 9.6.1
Level: 2
About Our Presenters



Dr. Janice A. Sabin is a Research Associate Professor, Department of Biomedical Informatics and Medical Education, University of Washington, School of Medicine and Adjunct Research Associate Professor, School of Social Work. Dr. Sabin's area of expertise is racial/ethnic health care disparities with an emphasis on understanding mechanisms and pathways that lead to unequal treatment in health care. Dr. Sabin is one of the earliest investigators in the nation to apply the science of implicit bias to health care disparities research. She has designed and implemented original research as principal investigator or co-investigator in academic medicine, the Indian Health Service, the Washington State community mental health system, and with national samples. Her research includes examining patient-provider communication, pediatricians' racial bias/discrimination in treatment decisions for African American and white patients, racial/weight bias among providers in the Indian Health Service, provider stereotypes of people with mental illnesses, providers' attitudes about weight, and providers' attitudes toward lesbian women and gay men. She has experience in community based participatory research with African American and American Indian/Alaska Native communities to develop culturally appropriate health education materials. She has developed interactive, web-based health disparities education materials that include the science of implicit bias for physicians and other providers. Dr. Sabin is affiliated faculty with the University of Washington, School of Medicine, Center for Health Equity, Diversity, and Inclusion, working on workforce diversity, and implicit bias curriculum for faculty and trainees. Dr. Sabin's work is published in leading academic journals and has received extensive national and international media attention.

Dr. Nina Crowley has just moved into the role of Bariatric Surgery Program Coordinator at the Medical University of South Carolina in Charleston, SC where she has been the bariatric dietitian for the past 9 years. In addition to facilitating behavior change with patients on their weight loss and maintenance journey, Nina's has presented and authored publications on weight regain after bariatric surgery, health-related quality of life, binge eating behaviors, and food cravings. She is an invited speaker at national conferences including ASMBS's Obesity Week, Weight Management Dietetic Practice Group's Annual Symposium, Your Weight Matters/Obesity Action Coalition, Bariatric Summit, and State Dietetic Associations and webinars. Nina is active in her local, state, and national associations for dietitians, and is passionate about nutrition policy and advocacy, and her most recent win was working with the SC Department of Health and Human Services on the Nutrition Counseling Policy for Medicaid Beneficiaries with Obesity, which has been in effect since last August! She has recently taken an interest in helping healthcare providers to improve their communication through their language and interactions with patients as it relates to weight and obesity to improve outcomes and improve patient engagement. She is excited to share what she knows on this important topic!
Disclosures


The presenters have no relevant disclosures to report regarding this program. They have certified that no conflict of interest exists for this program. View our disclosure policy.