Subject: Webinar on stroke prevention
View this email in a browser | Update your information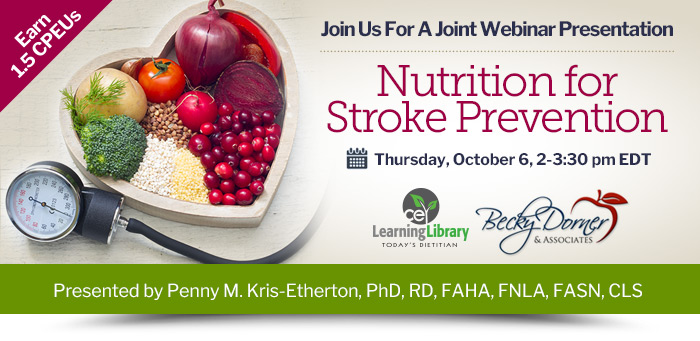 Every year, more than 795,000 Americans have a stroke, and almost 130,000 of these individuals die. Stroke accounts for 1 out of every 20 deaths and claims a victim every 4 minutes. The risk of having a stroke varies with age, race and ethnicity.

Lifestyle factors play a significant role in stroke risk and include: high blood pressure, tobacco use, diabetes, high cholesterol levels, and physical inactivity and obesity. In addition, carotid artery disease, transient ischemic attacks, atrial fibrillation, certain blood disorders, excessive alcohol intake and illegal drug use also increase risk of stroke. RDNs are positioned to help patients and clients modify lifestyle factors that can reduce stroke risk.

In this practical program, Penny M. Kris-Etherton, PhD, RD, FAHA, FNLA, FASN, CLS, will discuss the most current recommended nutrition strategies for decreasing risk for stroke with emphasis on blood pressure and LDL-cholesterol levels.

This webinar is essential for any practitioner working with adults and older adults.



Learning Objectives


After completing this continuing education course, nutrition professionals should be able to:
Discuss stroke statistics in the U.S. and globally, as well as the risk factors for stroke.
Understand current lifestyle guidelines (with emphasis on dietary recommendations) for the prevention and treatment of elevated blood pressure and cholesterol levels.
Appreciate evolving evidence for specific nutrients, foods and bioactive components that have blood pressure-lowering effects.
Identify evidence for specific nutrients, foods, bioactive components that have blood cholesterol-lowering effects.
Critically assess claims about the neutral effects of saturated fat and the benefits of coconut oil and dairy fat for heart health.
CPEUs: 1.5
Price: $39.95
Suggested CDR Learning Needs Codes: 4040, 5160, 5300
Performance Indicators: 8.1.4, 8.1.5, 8.3.6
Level: 2
About Our Presenter



Dr. Penny Kris-Etherton is Distinguished Professor of Nutrition in the Department of Nutritional Sciences at The Pennsylvania State University.

Her research expertise is cardiovascular nutrition. She conducts controlled clinical nutrition studies designed to evaluate the role of diet on risk factors for cardiovascular disease (CVD), and the mechanisms that account for the diet-induced responses.

Dr. Kris-Etherton has served on many national committees that have established dietary guidelines. She served on the 2nd Adult Treatment Panel of the National Cholesterol Education Program, the Dietary Reference Intakes for Macronutrients Committee of the National Academies, the Dietary Guidelines Advisory Committee 2005, and the Nutrition Committee of the American Heart Association. She is a Fellow of the American Heart Association (AHA) and The National Lipid Association, and has received many awards including the 2014 Ralph Holman Lifetime Achievement Award from the American Oil Chemist's Society, the Kritchevsky Career Achievement Award from the American Society of Nutrition (2012), the Marjorie Hulsizer Copher Award from the American Dietetic Association (2007), among others. She was President of the National Lipid Association (2011-2012) and Chair of the Medical Nutrition Council of The American Society for Nutrition (2010-2012). Presently, she is Chair of the AHA Nutrition Committee. Dr. Kris-Etherton has published over 300 scientific papers.
Disclosures


Penny M. Kris-Etherton, PhD, RD, FAHA, FNLA, FASN, CLS, has no relevant disclosures to report regarding this program. She has certified that no conflict of interest exists for this program. View our disclosure policy.